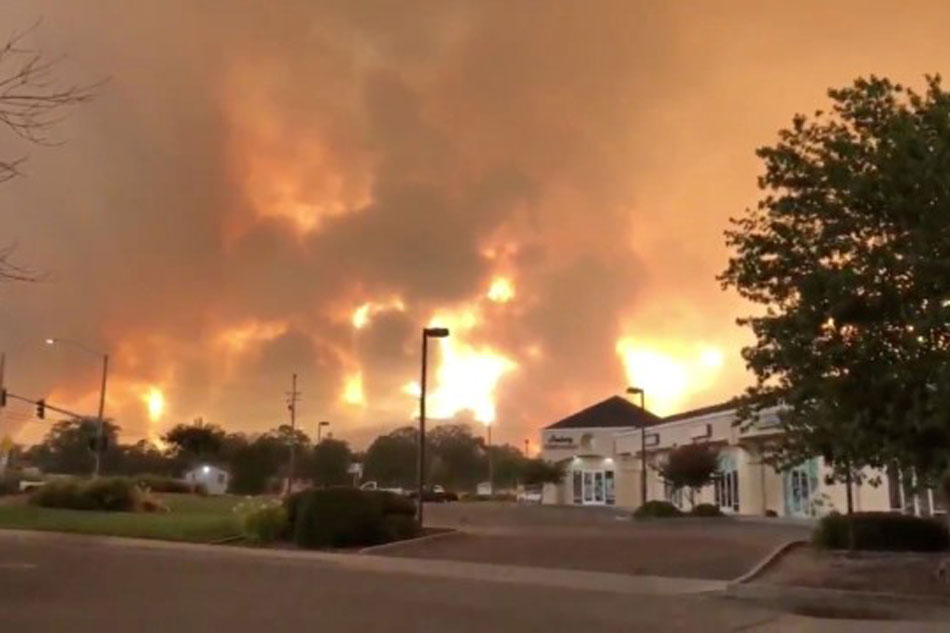 Some 3400 firefighters on the ground and in 17 helicopters were battling the fire on Saturday, which was just 5% contained as it ripped through Redding, a city of 90,000 people, in California's scenic Shasta-Trinity area.
Two firefighters - Redding Fire Inspector Jeremy Stoke and Don Ray Smith, a privately hired bulldozer operator - were killed trying to contain the blaze, which will probably be larger than the city of Philadelphia before the weekend is up.
However, experts say this has been the worst start to the fire season in 10 years - partly due to the 2012-2017 drought that killed off large amounts of vegetation. The so-called Carr Fire roared through Shasta County, so thoroughly eating up homes, that it's hard to tell how many once stood in the ruins. The Red Cross has opened multiple shelters to house some of the thousands of wildfire victims and others who were forced to evacuate as the flames neared their neighborhoods.
The Carr Fire destroyed almost all of Keswick, a hamlet just west of Redding. The Salvation Army of Northern California has deployed disaster response teams to Auburn, Roseville, Eureka, Redding and Santa Rosa. Scott McLean, a spokesman for the crews battling the Carr Fire, told reporters that winds reaching 60 miles per hour were fanning the flames and creating fire tornadoes, or "firenadoes", that move erratically and are strong enough to overturn vehicles "like toys". Mercy Medical Center hospital has treated nine people for burns, including three firefighters, spokesman Mike Mangas said on Saturday.
The Philippine Consulate General in San Francisco is also checking the situation of Filipinos in Redding and surrounding areas to determine whether any of them has been affected by the so-called Carr Fire.
Meanwhile, about 100 miles (160 kilometers) southwest of Redding, two blazes prompted mandatory evacuations in Mendocino County.
Hundreds of miles to the south, the Cranston Fire grew to 7.5 square miles and about 3,000 residents remained under evacuation orders in Idyllwild and several neighboring communities. The National Weather Service declared a red flag warning for high temperatures and winds and low humidity, effective until 8 AM Monday.
California Department of Forestry and Fire Protection spokeswoman Lynne Tolmachoff said Sunday that 12,000 firefighters were battling 17 significant fires in California. Residents in neighboring Benmore Valley were also told to leave Saturday. The blaze had blackened 150 acres, but was 50 percent contained on Sunday.
Some evacuations were lifted but officials said Yosemite Valley, the heart of tourism in the park, will remain closed until August 3.
LeBron James Is Doing a Talk Show for HBO
The enigmatic Beasley joins Rajon Rondo , JaVale McGee , Lance Stephenson and Kentavious Caldwell-Pope as players LA has added. For Beasley, these are guys that are judged more for moments that don't have to do with basketball and he wants that to stop.
Black Woman Killed, Sister Hospitalized After Random BART Station Attack
As police still investigate what motivated this horrific crime, here are 4 things we know about Nia and her tragic murder so far. The suspect attacked the sisters Sunday night as they left a train at the Bay Area Rapid Transit's MacArthur Station in Oakland.
Donald Trump, EU's Juncker agree to ease trade tensions
United States import tariffs of 25% on steel and 10% on aluminium, implemented in March , will remain in place during the talks. He's felt the impact of the trade wars directly as milk prices plummeted again this year following a long downward slide.
Elsewhere in California, large fires continued to burn outside Yosemite National Park and in the San Jacinto Mountains east of Los Angeles near Palm Springs. "That just shows that she did everything she could 'til the very end", Decker said.
"We're trying to get the heavy fuels down away from the line so we'll have less chance of embers crossing the line".
So far this year, wildfires have scorched nearly 1.7 million hectares across the USA, above the 1.5 million-hectare average for the same period over the last decade.
Redding Police Chief Roger Moore kept up an around-the-clock work schedule despite learning that his home was one of those destroyed.
They returned Friday to find little more than ash.
A Go Fund Me effort launched overnight to help Ed Bledsoe had raised nearly half its $30,000 goal by midday on Sunday.
"It's pretty emotional", Terri Hill said. "I've never seen a fire with such destruction here in this area ever before", said Moty, appearing at a news conference with other public safety officials.
On Saturday, US authorities called the family into the sheriff's office with news of the search's grim conclusion - and details of a matriarch's final, futile act.